Faculty Development Workshop - Faisalabad 2019
Role of Faculty as a Nation Builder: Developing Nation Builders and Entrepreneurs for the Future
A two days' workshop for Faculty on how to develop and teach an Entrepreneurial Mindset and to lay the foundation for an Entrepreneurial University leading to nation building activities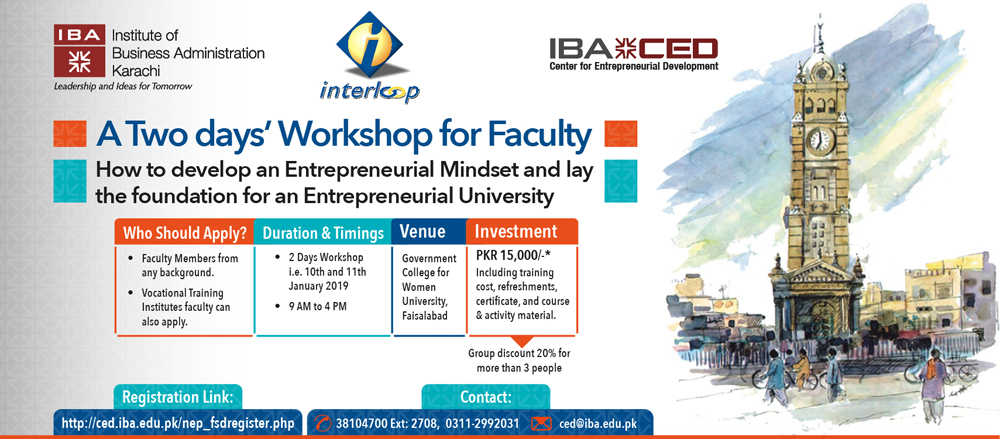 IBA Faculty Development Workshop FSD 2019
The Pakistani universities and institutes are churning thousands of graduates every year. The public and the private sector has a limited capacity to absorb these young and talented people and to engage them in nation building activities. Inability to engage the youth leads to erosion of the knowledge gained over the years and to a state of procrastination and laziness. There are thousands of opportunities around us in Pakistan, however, the laid-back attitude, lack of courage and an entrepreneurial mindset does not allow these young people to appreciate and understand these entrepreneurial opportunities.
In the light of this, IBA Center for Entrepreneurial Development (CED) initiated various workshops across Pakistan for faculty development in order to train them on an Entrepreneurial mindset. Presently, more than 500 faculty members throughout the country have been trained on how to teach the indigenous Entrepreneurship Plus (E+) model and many of them are contributing in innovative and creative ways to teach and promote entrepreneurship.
In continuation to this, IBA CED has planned to conduct a 2-days symposium in Faisalabad, which is designed for the Faculty members from various universities across this part of the country. Through this symposium, we aim to train the faculty on various pedagogical tools of developing an Entrepreneurial mindset through which they can further help the young students to discover their entrepreneurial talent.

The symposium will entail the following contents:
Development of an Entrepreneurial mindset (i.e. how to work with the least amount of resources), the Effectual theory of Entrepreneurship, the management of money and innovation leading towards the creation of environmentally, socially and ethically sensitive business models.
The sessions have a diverse flavor from the learnings of Sara Sarasvathy (Darden Business School, Virginia), the perspectives of Henry Mintzberg (McGill) and learnings from the Chinioti and Memon entrepreneurs form the core of the course.
An action-oriented course in which the faculty members will generate various ideas based on their interest, passion and available resources and will work on their business model / projects by applying the various learnings of the course.
Who Should Apply?
Faculty Members from any background.
Vocational Training Institutes faculty can also apply.
Duration & Timings
2 Days Workshop i.e. 10th and 11th January 2019
9 AM to 4 PM
Investment
PKR 15,000/-*
Including training cost, refreshments, certificate, and course & activity material
20% discount for 3 or more people
Venue
Government College for Women University, Faisalabad